ROLLER READERS
Ms. Drayer's
R
e
a
d
i
n
g
E
d
g
e
Class
Per. 1
"Basketball is my thing. I can hoop. Case closed." So begins Walter Dean Myers' novel (Scholastic, 1996) which lends itself perfectly to an audio presentation for young adults. Male reluctant readers as well as basketball fans will be captivated with this realistic story in which 17-year-old Greg Harris tells of the year in which he transfers to a magnet school for the arts, a more academically challenging, mostly white school. After being the hot shot star of his Harlem high school team, he has to learn to fit in and be a team player at his new school. He may not be able to do anything about the rest of his life--his relationships with his family and friends, his grandmother's illness, his scholastic difficulties, or what goes on in his Harlem neighborhood--but when he gets onto the basketball court, "Slam" feels in control. Listeners will enjoy this fast-paced, energetic story following Slam's progress as he tries to deal with basketball and life. Myers has created a character and a story that have great appeal for teens, and narrator Thomas Penny skillfully captures this young urban black man's voice. A valuable addition for teen audio collections.
-Marilyn Higgins, Metuchen High School, NJ
Per. 6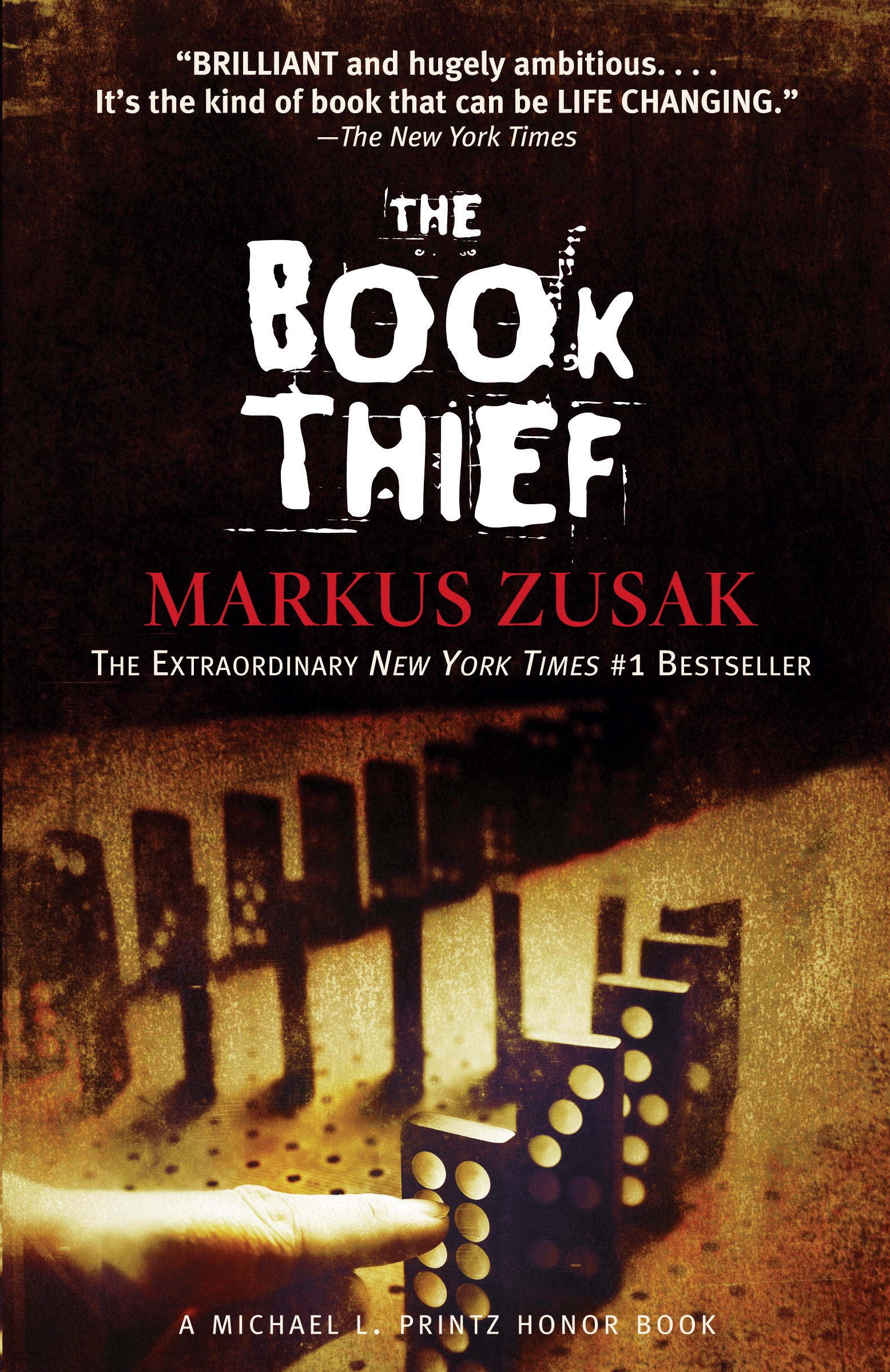 The extraordinary #1
New York Times
bestseller that will be in movie theaters on November 15, 2013, Markus Zusak's unforgettable story is about the ability of books to feed the soul.
It is 1939. Nazi Germany. The country is holding its breath. Death has never been busier, and will become busier still.
Liesel Meminger is a foster girl living outside of Munich, who scratches out a meager existence for herself by stealing when she encounters something she can't resist–books. With the help of her accordion-playing foster father, she learns to read and shares her stolen books with her neighbors during bombing raids as well as with the Jewish man hidden in her basement.
In superbly crafted writing that burns with intensity, award-winning author Markus Zusak, author of
I Am the Messenger,
has given us one of the most enduring stories of our time.
Previously Read (Per. 1 & 6):
The Jericho Trilogy by Sharon Draper
The Battle of Jericho
WARRIORS ROCK!
Sixteen-year-old Jericho is psyched when he and his cousin and best friend, Josh, are invited to pledge for the Warriors of Distinction, the oldest and most exclusive club in school. Just being a pledge wins him the attention of Arielle, one of the hottest girls in his class, whom he's been too shy even to
talk
to before now.
But as the secret initiation rites grow increasingly humiliating and force Jericho to make painful choices, he starts to question whether membership in the Warriors of Distinction is worth it. How far will he have to go to wear the cool black silk Warriors jacket? How high a price will he have to pay to belong? The answers are devastating beyond Jericho's imagination.
November Blues
Two months after her boyfriend, Josh, dies in a hazing accident, high school senior November discovers she's pregnant. Having to tell her mother is hard enough, but Josh's parents' reaction is even more devastating: they hire a lawyer to try to take her baby away from her. Josh's cousin, Jericho, wants to help November however he can, but he's still dealing with his own sense of responsibility for Josh's death. The sequel to the Coretta Scott King Honor Book
The Battle of Jericho
pulls no punches as it explores—with Sharon M. Draper's trademark keen insight into how teenagers think, feel, and speak—the difficult decisions and harsh realities of teen pregnancy.
Just Another Hero
Arielle, November, Jericho, and their friends have been through so much: the hazing ritual that left Joshua dead; November finding out that she was pregnant with Josh's baby. But senior year is going well, and when the fire alarm goes off in English class, everyone assumes that someone is trying to get out of another quiz. But the alarm was pulled for a very different and potentially deadly reason. There's only a matter of seconds to stop a tragedy, and all eyes are searching for someone—anyone—to step up and do something…
TIME Magazine's #1 Fiction Book of 2012!
"The Fault in Our Stars is a love story, one of the most genuine and moving ones in recent American fiction, but
it's also an existential tragedy of tremendous intelligence and courage and sadness." —Lev Grossman, TIME Magazine
Despite the tumor-shrinking medical miracle that has bought her a few years, Hazel has never been anything but terminal, her final chapter inscribed upon diagnosis. But when a gorgeous plot twist named Augustus Waters suddenly appears at Cancer Kid Support Group, Hazel's story is about to be completely rewritten.
Insightful, bold, irreverent, and raw, The Fault in Our Stars is award-winning-author John Green's most ambitious and heartbreaking work yet, brilliantly exploring the funny, thrilling, and tragic business of being alive and in love.
Through these mostly free-verse lines, the hopes, dreams, fears, and desires of young men from different cultures and backgrounds shine through. They pull no punches with their words in these openly honest, raw, and sometimes tender selections. They talk about what you'd expect-drugs, girls, AIDS, sex, parents-sometimes in unexpected ways. For example, 12-year-old Quantedius Hall's first stanza-"Time Somebody Told Me/That I am lovely, good and real/That I am beautiful inside/If they only knew/How that would make me feel." What do these boys want? "I want to live my life/through peace and knowledge./-I want to wake up/to clean, fresh air/blowing in my face," says 14-year-old John Merrell. Others speak of the fear of alternately being abandoned and loved, of being shunned or ridiculed. Obviously, there's some harsh language and tough situations but they add to the believability and timeliness of the words. You Hear Me? is a fresh approach to hearing what today's youths have to say, and it's refreshing that the words came straight from them.
Sharon Korbeck, Waupaca Area Public Library, WI
Clay Jensen returns home from school to find a mysterious box with his name on it lying on his porch. Inside he discovers cassette tapes recorded by Hannah Baker--his classmate and crush--who committed suicide two weeks earlier. On tape, Hannah explains that there are thirteen reasons why she decided to end her life. Clay is one of them. If he listens, he'll find out how he made the list. Through Hannah and Clay's dual narratives, debut author Jay Asher weaves an intricate and heartrending story of confusion and desperation that will deeply affect teen readers.
This groundbreaking anthology presents the freshest young writers and thinkers--age 19 and under--on important issues of our time. From ethnic relations to individual identity, international politics to voting rights, divorce to gay marriage, standardized testing to popular culture, these authors tackle the subjects they care about most. Hip Deep collects its youth voices from many sources: editorials, radio journals, essays, commentary, spoken word, web articles, and more. Poet Naomi Shihab Nye calls Hip Deep a collection to wipe the sorrowful spin of news from our eyes and ears, to remind us there is truth out there somewhere, and it's young as well as timeless, and it feels wonderful to find it. This is a book for every teacher, every high school, every parent, and every person in this land who cares about the intriguing, necessary stories of y
oung lives.
Lower Level Class Titles may include:
In all Mildred D. Taylor's unforgettable novels, she recounts "not only the joy of growing up in a large and supportive family, but my own feelings of being faced with segregation and bigotry." Her Newberry Medal-winning
Roll of Thunder, Hear My Cry tells the story of one African American family, fighting to stay together and strong in the face of brutal racist attacks, illness, poverty, and betrayal in the Deep South of the 1930s. Nine-year-old Cassie Logan, growing up protected by her loving family, has never had reason to suspect that any white person could consider her inferior or wish her harm. But during the course of one devastating year when her community begins to be ripped apart by angry night riders threatening African Americans, she and her three brothers come to understand why the land they own means so much to their Papa. "Look out there, Cassie girl. All that belongs to you. You ain't never had to live on nobody's place but your own and long as I live and the family survives, you'll never have to. That's important. You may not understand that now but one day you will. Then you'll see."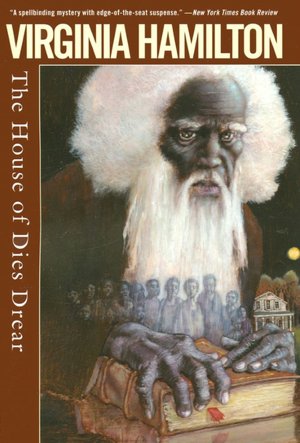 The House of Dies Drear is a 1968 novel by Virginia Hamilton. The novel takes place in 1968,Thomas Small, a 13-year-old African-American boy, moves with his family into a house that was once part of the Underground Railroad that is in Ohio. His father, Mr. Small, tells Thomas that the caretaker of the house is Mr. Pluto. People think he is the devil because Mr. Pluto rides an old buggy driven by two horses and because Pluto is the roman name for Hades the god of the underworld. Once they move into the house, strange and scary things begin to happen. They meet a malicious family next to them, the Darrows. In the end, they learn that the Darrows are doing all they can to scare away the Smalls and get the treasure located in Mr. Pluto's cave.
"If you take a bad boy and make him dig a hole every day in the hot sun, it will turn him into a good boy." Such is the reigning philosophy at Camp Green Lake, a juvenile detention facility where there is no lake, and there are no happy campers. In place of what used to be "the largest lake in Texas" is now a dry, flat, sunburned wasteland, pocked with countless identical holes dug by boys improving their character. Stanley Yelnats, of palindromic name and ill-fated pedigree, has landed at Camp Green Lake because it seemed a better option than jail. No matter that his conviction was all a case of mistaken identity, the Yelnats family has become accustomed to a long history of bad luck, thanks to their "no-good-dirty-rotten-pig-stealing-great-great-grandfather!" Despite his innocence, Stanley is quickly enmeshed in the Camp Green Lake routine: rising before dawn to dig a hole five feet deep and five feet in diameter; learning how to get along with the pack of boys in Group D; and fearing the warden, who paints her fingernails with rattlesnake venom. But when Stanley realizes that the boys may not just be digging to build character--that in fact the warden is seeking something specific--the plot gets as thick as the irony. Winner of the Newberry Medal, this novel is a must-read for all ages.
Insightful about the characteristics of early adolescents, Soto tells 11 short stories about everyday problems of growing up. Latinos in central California are the focus of the stories, but the events are typical of young teens anywhere in the United States. The main characters try out for Little League teams, take karate lessons, try to get the attention of the opposite sex, and are embarrassed by their grandparents' behavior. These day-to-day events reveal the sensitivity, humor, and vulnerability of today's young people. The descriptions and dialogue are used to advantage, helping to create and sustain the mood. A glossary of Spanish terms is included. Young readers should easily identify with the situations, emotions, and outcomes presented in these fine short stories.
-Janice C. Hayes, Middle Tennessee State University, Murfreesboro
Now that all the boys at Camp Green Lake have stopped digging holes, Louis Sachar tells how one of the former inmates is taking Small Steps to get his life back on track. In this sequel to Sachar's Newbery Award-winning novel about a correctional facility gone wrong, Armpit, a powerfully built African American is working, going back to school, and trying to avoid the angry outbursts that landed him in juvenile detention. The Texas teen is doing well and he's even befriended his ten-year-old neighbor, Ginny, who has cerebral palsy. Then another former inmate, X-Ray, convinces him to invest his savings in a legal, but less than savory, concert ticket scalping scheme. Armpit shows his courage as the story heats up and moves to its lesson-learned conclusion. Beneath the story's humorous dialogue and some beyond-your-wildest dreams scenarios, Small Steps acknowledges the realities of ex-inmate life and the value of doing the right thing.
For more information on the Reading Edge program,
please visit the Success for All website.